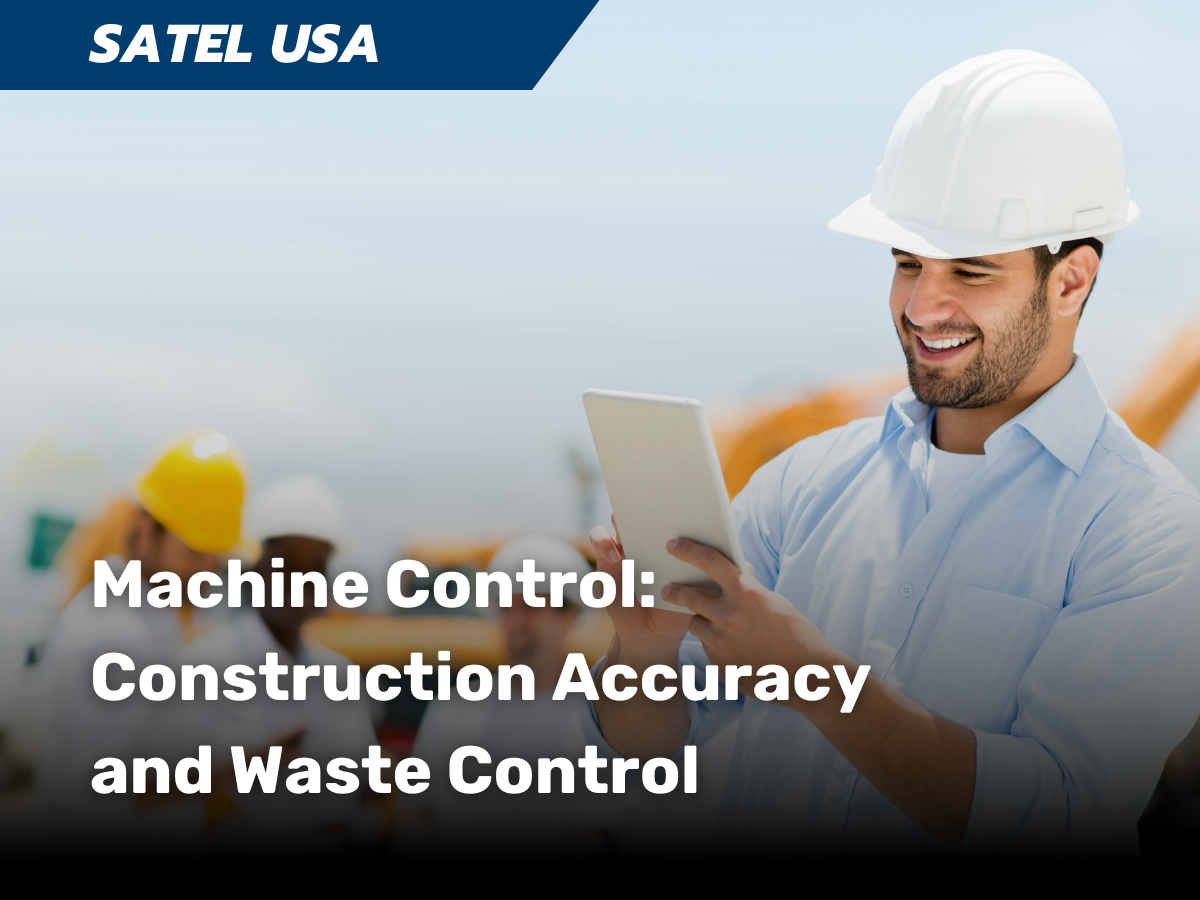 Benefits of Construction Technologies and their Impact on Society, a new paper from Association of Equipment Manufacturers (AEM), describes how four major advances are making construction sites safer, more efficient, and less environmentally impactful.
One such technology is machine control, which is revolutionizing the way paving and earthmoving jobs are done. Unprecedented levels of precision and productivity are being attained, leading to safer and more efficient work environments as well as quicker and less wasteful project completion.
Insights from Industry Experts
According to Brad Viernow, OEM director for North America Heavy Construction at Leica Geosystems, a provider of sensors, software, and services for geospatial data intelligence, "machine control is a technology system that calculates the position of machinery." "Machine control employs measurement data from either satellites (GNSS) or an on-site surveying device called a total station to identify accurate location. The positioning data can then be compared to a project design by machine control.
Equipped with this knowledge, machine control can then direct and support an operator of a piece of machinery. It's pretty simple: Better information leads to better results.
Viernow stated that "poor data and missed communication account for 52% of all rework globally on average." The equipment operator can view all of the design information on the display in the cab while they are working thanks to the sharing of current data via cloud connectivity. To take things a bit further, machine automation may also be used. In fact, machine control can relieve the operator of some of the labor while making it even easier to achieve the required accuracy.
Applications such as paving and earthmoving are good fits for machine control. When it comes to factors like compaction density, grade, cross slope, and material placement, equipment operators have to operate under very strict limits. Because of this, machine control is currently used in many typical pieces of equipment, such as motor graders, dozers, excavators, and pavers. But there is far more potential for machine control.
"This type of technology is being used in some capacity in every piece of machinery used in the construction industry," stated Adam Woods, general manager of innovation and product portfolio strategies at LBX Company, the company that makes Link-Belt excavation equipment. Machine control will be beneficial even for seemingly simple products like compactors, which simply roll back and forth. The amount of compaction that has occurred and whether more compaction is required to reach the required specifications are both determined by machine control. Even machines can now accomplish that on their own thanks to automation. The goal of everything is to increase the efficiency of job sites.
This also applies to smaller equipment and job sites. According to Sean Mairet, group product manager for Grade Control at John Deere, "the utility of something like a compact track loader, paired with the benefits of a technology like grade control, is really a winning combination.
"On average, 52% of all rework globally is caused by poor data and missed communication. Sharing up-to-date data via cloud connectivity allows the equipment operator to see all of the design information on the panel in the cab while they are working. Going one step further, machine automation can also come into play. Machine control can actually take some of the work out of the operator's hands while achieving the desired accuracy even more easily."

Leica Geosystems' Brad Viernow
The Role of Machine Control in Reducing Rework and Waste
The accuracy that a machine control system aids in achieving is the foundation of everything. Consider grade control as an example. With good reason, 3D grade control is the most sophisticated system and is highly praised. However, even a more basic 2D system yields useful data.
By directing the user as they dig, a 2D grade control system helps to eliminate inaccurate digging. Key parameters like depth and slope are entered by the operator into the software. The machine then uses a sensory system to measure those data points while it digs, giving the operator visual and/or auditory coaching through a display screen in the cab.
Plane and slope are the foundation for this level of machine control, according to Mairet. For projects like sloping terrain away from a house, where a complex site design is not necessary, it is the perfect solution. When the operator instructs the machine to maintain, say, a 2% slope, the blade or bucket is controlled by the 2D grade control system to accomplish that goal. By avoiding over-cutting or over-digging, even a 2D system can contribute to significant time and material savings.
Accuracy is elevated to a new level by contemporary 3D grade management. Actually, some systems can assist operators of equipment in achieving millimeter accuracy. Furthermore, 3D systems are more advanced. To determine a machine's exact location at all times, 3D systems integrate with position data and a site design. Either satellites (GNSS) or an on-site surveying device known as a total station supply the position data. Everyone has benefits of its own. Regardless, even higher gains in productivity and resource optimization may result from the fine accuracy of 3D grade control.
For example, industry estimates indicate that the application of grade control in construction projects results in a 10–20% reduction in material use. This indicates that the quantity of concrete and asphalt that is saved annually on public road construction projects is sufficient to pave a two-lane highway running from Chicago to Phoenix. That directly affects everyday people's finances as well as those of construction companies. Taxpayers saved roughly $3.6 billion in material costs on public road construction projects in 2022 alone thanks to improvements in accuracy and waste reduction.
Project scheduling can benefit from grade control as well. In construction projects, time is money. Woods has seen some construction companies increase productivity by 30–50% when using machine control equipment.
Woods said, "Consider a project like an irrigation canal." "If the canal is 1,000 feet long and slopes 0.3%, then there won't be much variation in the slope from one location to another. The slope can be continuously checked by machine control to ensure accuracy. Because the operator doesn't have to constantly stop and check the grade, productivity can really increase there. Using this technology, some contractors are even finishing projects ahead of schedule—something that used to be practically unheard of.
Viernow continued, "We've discovered that 35% of working time on a jobsite is spent on non-value-adding activities." Furthermore, rework can result in an average 10% increase in schedule. Throughout the construction process, machine control greatly contributes to the reduction of waste. On a jobsite, waste can be significantly decreased by just moving the correct dirt the first time.
Enhancing Site Safety with Machine Control
On a construction site, machine control technologies such as grade control can also aid in lowering safety-related incidents.
Surveyors, civil engineers, and other workers on a jobsite must constantly check grade without the use of technology like this, according to Woods. They approach and maneuver around the machine on a regular basis. Frequently, they are operating in a trench. You can lessen the need for these people to enter these potentially dangerous situations by using grade control technology.
Additionally, job sites are being improved by machine control features tailored to safety. The first thing that springs to mind is a camera system. Cameras provide equipment operators with improved peripheral vision around a machine, frequently alerting them to objects and people approaching the machine in danger.
Even though such a system of operator guidance is crucial, machine control is capable of much more. When a possible collision is detected, technology can actually stop a machine. Furthermore, Viernow said that geofencing—another essential construction technology—can be used to create 3D avoidance zones.
Viernow explained, "Let's say someone is using an excavator in a place where there is a powerline directly overhead them." One of the main goals of machine control is to make things safer and less stressful for the operator, and "through location-based geofencing, the operator could set up an automatic stop so the excavator arm couldn't extend beyond a certain point."
Addressing Skilled Labor Shortage with Machine Control
Machine control not only increases productivity and safety in equipment but also facilitates easier operation. Machine control can assist operators in becoming proficient faster and experiencing fatigue much less frequently by increasing accuracy and taking over specific functions.
"Getting on a piece of construction equipment and starting to do what these operators are asked to do isn't easy," Mairet remarked. Grade control technology, for example, can make operators more comfortable and productive much more quickly. Technology that reduces workloads will be beneficial even to experienced operators of machinery. Operators who experience this are happier and more productive.
"You can take an experienced operator and make them stand out with machine guidance," Woods continued. Within a day or so of operating the equipment, a novice operator could learn how to cut grade with machine control. Without this kind of technology, it might take months or even years to complete the required training.
Up until that point, one way to address the growing scarcity of skilled labor in the construction sector is through machine control. Instead of relying solely on intuition and years of skill development, machine control enables equipment operators to rely on real-time data and semi-autonomous operation.
Mairet remarked on the impact of machine control technologies in modernizing construction workflows. He acknowledged that skilled operators and surveyors have always been capable of maintaining grade, but emphasized that machine control enhances this process, making it safer and more efficient. Mairet views machine control as a contemporary approach to shaping the world.
Conclusion
As we see, machine control is pivotal in modernizing construction sites, elevating efficiency, safety, and precision. While Satel USA does not provide full machine control systems, our expertise in reliable communication technology positions us as an essential partner in the machine control ecosystem. We provide robust and reliable radios that ensure seamless communication, a critical component in the effective operation of machine control systems.
For more information and to understand how our technology can support your machine control needs, visit Satel USA's Machine Control Page.
Discover how we enhance communication reliability in construction technology, contributing to the overall success of your projects.