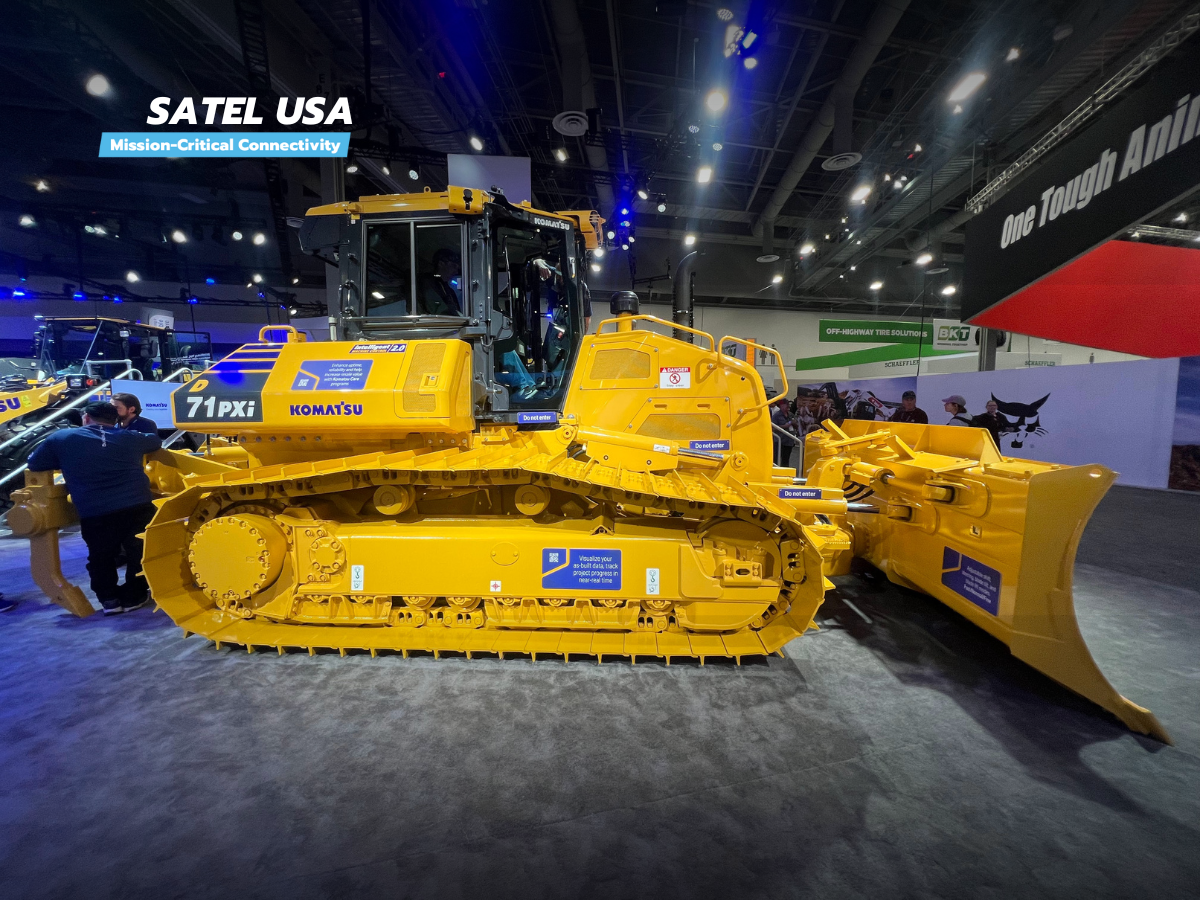 Machine control technology has long been a transformative force across industries, including construction, paving, mining, smart agriculture, and the marine industry. The integration of high-precision positioning solutions, GNSS, and RTK technologies is ushering in a new era of efficiency and precision and the landscape of these industries is evolving rapidly.
This article delves into the cutting-edge advancements in machine control technology presented at the recent CONEXPO-CON/AGG 2023 in Las Vegas, Nevada. We'll discuss their influence on various sectors and the upcoming innovations to watch out for.
Recent Innovations in Machine Control Technology
The recent CONEXPO-CON/AGG 2023 in Las Vegas, one of the largest construction and heavy machinery conferences in the world, showcased some of the most exciting innovations in machine control technology.
Digital Twin Technology
One innovation is the concept of the Digital Twin Technology (DTT) also known as a virtual job site. Digital Twin Technology is redefining how industries approach planning and resource allocation. By creating a virtual job site, this technology allows the engineers to diverse scenarios, optimizing both planning and resource deployment. Satel USA Inc.'s CEO, Paul Tacci, had the privilege to see these innovations live at the show and witness these seismic shifts to the industry first-hand, one the key takeaways was that advancements in machine control technology are no longer a nice to have but are now becoming necessary in some way or another. If you do not implement these new technological advancements for your projects or for your clients, it's very likely that your competitors will be more than happy to do so, saving costs and increasing efficiency along the way.
Machine Control 2.0
Industry giants are all competing to be the best  in this technological race. Komatsu, for instance, unveiled their intelligent Machine Control 2.0 for excavators, a technology aiming to harmonize the expertise of seasoned operators with the enthusiasm of newcomers. Simultaneously, Hexagon is carving a niche with its autonomous robotic carrier and pioneering the first-ever autonomous LiDAR UAV. These strides are not just expanding the horizon of possibilities but are also recalibrating industry benchmarks for efficiency and productivity.
Trimble's Spot – Boston Dynamics Robot Dog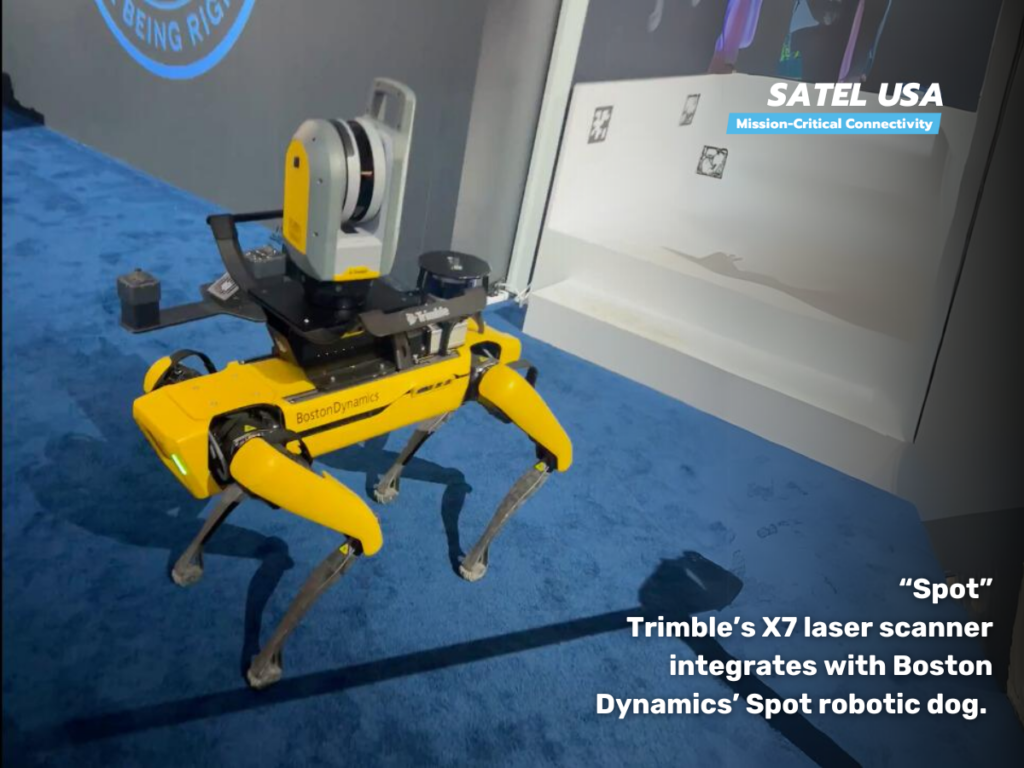 The future of construction and land surveying is not just confined to the latest machinery and tools. It's also about the integration of advanced technologies that redefine how tasks are accomplished. In addition to some of the largest heavy machinery we have ever seen in person, the spotlight is on the integration of Trimble's X7 laser scanner with Boston Dynamics' Spot robot dog. This combination is set to transform site scans, reality capture tasks, and even the very essence of construction progress tracking.
At the Trimble station, attendees witnessed how the robot dog seamlessly navigated through an array of obstacles, simulating the future landscape of land surveying. This demonstration was a testament to the evolving land surveying technology. This shows how Trimble's X7 laser scanner integrates with Boston Dynamics' Spot robotic dog. This integration provides an unparalleled solution for site scans and reality capture tasks. The precision of the X7 laser scanner, combined with the mobility and agility of Spot, ensures accurate and comprehensive site scans.
Moreover, this integration is not just about capturing the present. It is about tracking the progress of construction sites. The autonomous laser scanning capability of this integrated solution offers real-time tracking of construction progress, ensuring that projects stay on track and any discrepancies are immediately identified.
Furthermore, another Boston Dynamics robot dog was on display, designed specifically for the security and monitoring of predefined geographical spaces. This robotic sentinel followed a predetermined route, ensuring the safety and integrity of the area it was tasked to monitor.
Impact of These Innovations on Different Industries
These cutting-edge innovations are already reshaping the very fabric of industries:
Construction: Digital twins have emerged as a powerful tool for cost management in construction. By facilitating rapid and accurate estimations, they offer teams real-time data access. This enables early identification of areas for cost reductions during planning phases, ensuring budgets stay on target. Moreover, they provide invaluable insights into possible future expenses, thereby optimizing project timelines.
Marine: Enhanced precision in positioning solutions is revolutionizing navigation and underwater mapping handled by autonomous or semi-autonomous water crafts.
Agriculture: Smart machine control technologies are fine-tuning planting, fertilization methods, and earthmoving processes, culminating in better crop yields and increased profits.
Future Innovations in Machine Control Technology
The next wave of machine control innovations promises even greater advancements. We foresee a future where excavation becomes fully automated, elevating productivity throughout construction workflows. Machines, in their evolved forms, will double up as sensors, overseeing project milestones and churning out detailed productivity reports. This will inevitably lead to streamlined construction methods and significant reductions in project delays.
Machine control technology isn't merely a passing phase; it symbolizes an industry-wide revolution with lasting impacts. Its potential to recalibrate industry standards and bolster efficiency marks an exciting phase in technological evolution.
Conclusion
In summary, the evolution of machine control technology is making a big impact, touching everything from construction to agriculture. At SATEL USA, we're not just watching from the sidelines; we're actively supporting our clients who are part of this change. Discover how our advanced solutions can help elevate your projects here.